Click Here to Visit our Sponsor
The Great Work of Gujarat Vanvasi Kalyan Ashram
Often we are told as children that we should help the poor. The average person gives some spare change, or blankets during the winter time. These are good habits, but we often forget that an individual's needs go well beyond food and clothing. This applies to the poor and so called "backward" classes as well. They need education, medical care, protection from evil elements in society and someone to listen to their concerns and problems.
It is often easy to forget that the poor are not an object for our pity, but our own brother's and sisters. Many organizations in Bharat feed the hungry. They provide a good meal, but that's all. But some organization do much more. To them poor, disadvantaged (materially) are our brother's and sisters. One such organization is Vanvasi Kalyan Ashram. Vanvasi Kalyan Ashram was started in 1952 by Balasab Despande. It is currently the largest tribal organization with over 8000 projects in several states. They work to improve and develop the tribal communities in Bharat. In Bharat the Vanvasi's or Adivasi's as some call them are forest dwellers. Theses tribes have lived in the forest since ancient times. In fact, Guha Raja who helped Lord Rama was also a Vanvasi.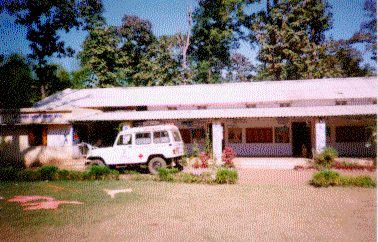 The Sewa Ashram as it is called works closely with the tribal community, identifies the needs and works with the community to fulfill them. This report outlines some activities supported by Gujarat Vanvasi Kalyan Parishad. The projects included in this report are the largest supported by Gujarat Vanvasi Kalyan Parishad. These projects are near the city of Valsad (Southern Gujarat). It should also be noted that there are many smaller projects not included in this report.

Siddumber (Dharmpur District)
The sewa ashram as its called is large over 50 acres of land. It has a school with 270 students for 8-10 standard(grade). Along with the school there is a hostel which houses 160 students. 115 of these students attend the ashram's school, the rest attend a nearby government school for 11 & 12th standard.
The ashram school is known for its good reputation. No student in that school has third class test scores only first and second class. The staff is dedicated and caring. Graduates of this school are known for there character and ability.The hostel simple but clean and food is good and nutritious. The structure is large and well maintained. There are multiples toilets and bathhouses.
The need for hostel schools is apparent. The Vanvasi population is spread out. There is no central village and large distances between houses. This is not unlike rural areas in America. Schools are few. In a 100km distance there may be only one school. The hostel allows Vanvasi children that live far away to attend school.
A medical clinic is open during the morning hours. In the afternoon the doctor travels in the mobile medical dispensary. The medical van runs on 5 different routes. So it covers a particular village or area on a weekly basis. Emergencies or more difficult cases are sent for treatment in a hospital in Valsad.
The ashram has a good relationship with the Vanvasi's have provide assistance in all aspects of life. Here are a few examples. First, many Vanvasi's are so poor that they cannot afford a marriage ceremony to be performed. Typically the young couple just starts to live together as husband and wife. Still there's a deep desire to have a ceremony performed. The ashram arranges for group marriage ceremony for the Vanvasi's, often the couples attending this ceremony have been together for some time and even may have one or more children. Secondly, it was noticed that many of the students were fainting while singing Vande Matarum in the afternoon. The students that were fainting were not staying in the hostel, but coming from neighboring areas. They may eat something in the morning, but could not afford to purchase some lunch. So the school started a program to provide some healthy snacks at lunch and the incidents of fainting were stopped. Other activities include having bhajan's and kirtans at the homes of Vanvasi's. Supporting the organization of festivals. They distributed 30,000 pictures of Hanumanji, and Hanuman Chalisa.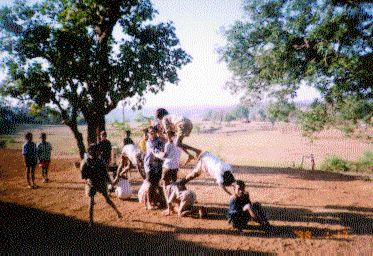 Narwad (Dharmpur District)
The ashram has recently started a 58 student hostel school. The building is made of straw and mud. The same building materials used for Vanvasi homes. This school is for first and second standard. The following year it will expand to third standard and so on until twelfth standard. Within the next two year's there are plans to build a true school building and hostel. Incidentally a number of children in this hostel are supported through "VHP of America's" "adopt-a-child" program.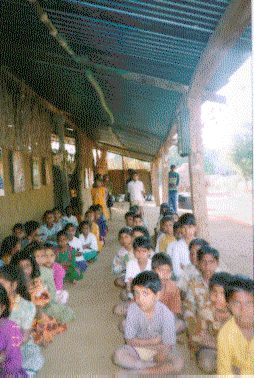 Vagai (Dhang District)
There's a boy's hostel for 28 children. The students of this hostel attend a nearby government school. The hostel looks after of all of the needs of the 28 children.
For example, one of the students had a large swollen boil on his jaw. He was in tears. Arrangements were made to take him to Valsad where a minor surgery would be performed to remove the boil.
Swami Asimanandaji is in charge of the Ashram's activities in this district. The Vanvasi's are of a lower caste and people from the surrounding communities did not associate with them. Swamiji goes personally to homes throughout the district. He talks with them, eats at there homes----breaking down this barrier.
Though is has some only before 18 months he is well known as respected by the community. He remembers the names of most of the people he visits and has developed a close relationship with them.
Gaygoton (Dhang District)
A two year old child was afflicted with polio. He was not eating and suffering from mal nutrition. His legs were suffering from partial paralysis. Arrangements were made for this child to come to Ahmedabad where a surgery will be performed, full therapy and rehabilitation will be provided. The treatment costs around 26,000 rupee's but the ashram charge's the family a token amount based on what they can afford. In addition lodging and food for the family member that accompanies the child is provided at no cost. Three cases were treated in this manner and all fully recovered.
Back to Vanvasi Kalyan Ashram Home Page