Click Here to Visit our Sponsor
Vanvasi Kalyan Ashram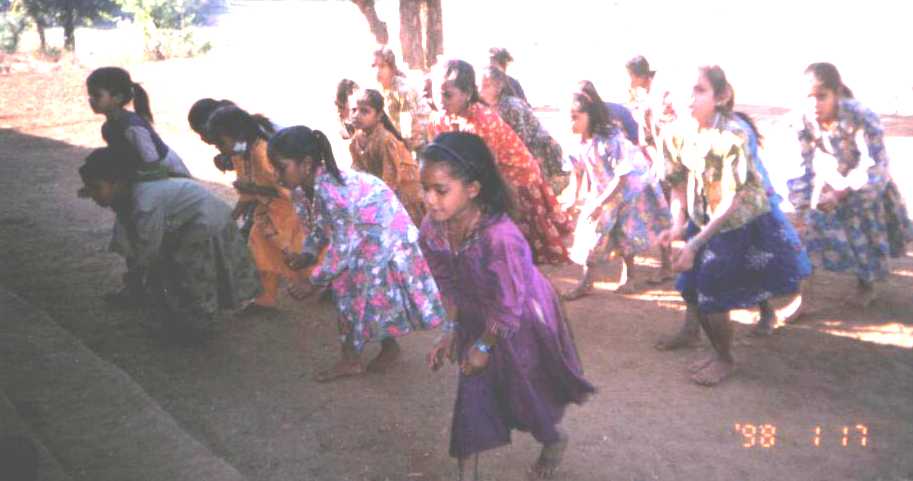 Established in the year 1952 at an obscure, remote place Jashpur, in Madhya Pradesh, the Vanavasi
Kalyan Ashram (V.K.A.) has now expanded its activities in each and every state of our country. VKA has earned the proud distinction of operating the highest no. of seva projects (7648 as on 1-3-97) conducted by any Sangh inspired organization in our country. They propose to cross the 10,000 mark by the end of 1997.
Out of a total of 276 vanavasi districts, the V.K.A currently operates in 171 districts, covering 4974 places and with dependable, active contacts established in over 20,000 villages. In addition, the V.K.A. also operates in all major cities and in 43 other non-adivasi districts. It proposes to reach each of the remaining vanavasi districts in the next two years.
A remarkable feature of this organization is that nearly 50% of their full-time workers come from the vanavasi areas (528 out of 1115). Their remarkable methodology of grooming local leadership is bound to have a snow - balling effect in fulfilling all their ambitious expansion proposals.
The V.K.A operates in all the Sevakaryakshetras i.e. Health, Education, Social organization, Economic development as well as carrying out numerous casual/need-based programs. But their major in-puts are in the field of education, development of sports, re-establishing and strengthening the blurred cultural links and weaning the vanavasi away from the evil influence of foreign missionaries, anti-social, and anti-national forces, etc. The impact of the selfless, untiring, all encompassing activities and programs are now becoming manifest in all the places where the V.K.A operates. The burgeoning demand for opening V.K.A seva projects, the growing self-reliance of the Vanavasis and financial support from all over the country are indicators of V.K.A's favorable impact.
| | |
| --- | --- |
| Activities of Vanvasi Kalyan Ashram | |
| | |
| | |
| | |
| | |
| | |
How you can support Vanvasi Kalyan Ashram:

India

Sewa International, India

Keshav Kunj, Jhandewalla D.B.Gupta Marg

New Delhi – 110055 INDIA

Phone: +91 11 7779914

e-mail:

shyam@del2.vsnl.net.in

The United States:

You can support a Vanvasi Child through the

support-a-child program. The cost is $250/year.

The

India Development and Relief Fund is a registered non-profit organization. You can support Vanvasi Kalyan Astram by sending a check to:

IDRF

4433 Othello Drive,Fremont, CA 94555

Ph: (510)-797-5601

Fax: (510) 797 3498

E-mail

: idrf@aol.com

The United Kingdom:
Email

: info@sewa-international.org.uk

For additional information Email:

bhrigu@juno.com