God in Hindu Dharma and Representation in Temples

Concept of God in Hindu Dharma
All Major Deities on One Page
Hindu Trinity
Forms of God
Forms of Goddess
Avatars of Lord Vishnu
Devatas
Planet Deities
Animal Deities
The Hindu Trinity
Explore this
topic in detail

Recommend
this page


Comment on this page


Create /
Join Club
Lord Brahma, the creator God of the Trinity appears seated on a lotus (a symbol of glorious existence), He has four heads and hands. Each hand is holding a sacrificial tool (sruva), the Vedas (knowledge), a water pot (kamandalu) and a rosary respectively.

His vehicle is a swan (hans) which is known for its judgment between good and bad.

Lord Brahma's consort is Goddess Saraswati, the Goddess of Learning.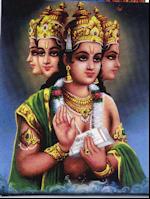 More About Lord Brahma