God in Hindu Dharma and Representation in Temples

Concept of God in Hindu Dharma
Summary Concept and Deities
Hindu Trinity
Forms of God
Forms of Goddess
Avatars of Lord Vishnu
Devatas
Planet Deities
Animal Deities
Avatars of Lord Vishnu

Explore this
topic in detail

Recommend
this page


Comment on this page


Print this
page

Create/
Join Club

Hindu
Universe

Links

Articles

Online Books

Hindu Web

Discussion


Book- store


Related Sections
This special form was adopted by Lord Vishnu to kill a demoniac ruler Hiranyakashyap, who had pleased the Lord Brahma with his religious offerings.

Lord Brahma had given him the blessings that no known man or animal born in the natural process could kill him, that he could not die in the day or in the night, on earth or in heavens, either by fire, water or by any weapon.

It was to kill such a tyrant and to remove him from the earth that Lord Vishnu assumed the form of Narasingh which was neither man nor animal, came out of a broken pillar, laid hold of the demon king by its teeth, put him up on his thighs and tore him up in the middle by his claws. It was evening time (twilight) - neither day nor night.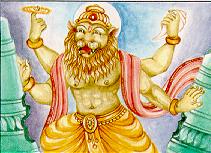 Narasingh Avatar