God in Hindu Dharma and Representation in Temples

Concept of God in Hindu Dharma
Summary Concept and Deities
Hindu Trinity
Forms of God
Forms of Goddess
Avatars of Lord Vishnu
Devatas
Planet Deities
Animal Deities
Avatars of Lord Vishnu

Explore this
topic in detail

Recommend
this page


Comment on this page


Print this
page

Create/
Join Club
Parsu is the name of an axe-like weapon adopted by this incarnation.

Parasuram was a brahmin who manifested himself at the close of the satya-yug. This appearance was for the purpose of defeating the tyranny of the power-drunk kshatriyas.

When the kshatriya kings of the earth and their ministers became very corrupt and tyrannical, the goddess Prithvi (Mother Earth) went to Lord Vishnu and prayed for relief. Lord Vishnu answered the prayer and appeared on the earth as a descendant of the great sage Brigu. Parasuram avenged the gruesome murder of his father by a kshatriya king and freed the earth of oppression perpetrated by the rulers by clearing the earth of kshatriyas.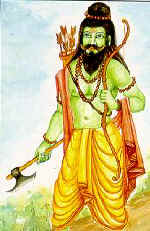 Parsuram Avatar