God in Hindu Dharma and Representation in Temples

Concept of God in Hindu Dharma
Summary Concept and Deities
Hindu Trinity
Forms of God
Forms of Goddess
Avatars of Lord Vishnu
Devatas
Planet Deities
Animal Deities
God in Hindu Dharma

Explore this topic in detail

Recommend
this page


Comment on this page


Create /
Join Club
Hanuman is a monkey god. He is a noble hero and great devotee of Lord Rama of the Ramayana.

This deity is a provider of courage, hope, knowledge, intellect and devotion. He is pictured as a robust monkey holding a mace (gada) which is a sign of bravery and having a picture of Lord Rama tatooed on his chest which is a sign of his devotion to Lord Rama.

He is also called Mahaveera (the great hero ) or Pavan-suta (son of air) or Bajarangbali.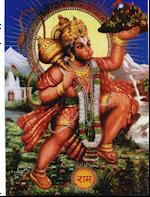 More About Lord Hanuman