God in Hindu Dharma and Representation in Temples

Concept of God in Hindu Dharma
Summary Concept and Deities
Hindu Trinity
Forms of God
Forms of Goddess
Avatars of Lord Vishnu
Devatas
Planet Deities
Animal Deities
God in Hindu Dharma

Explore this
topic in detail

Recommend
this page


Comment on this page


Create/
Join Club
The preserver god of the Trinity has four hands. The first holds a conch shell (sankha) indicating spread of the divine sound "Om"; one holds a discus (chakra), a reminder of the wheel of time, and to lead a good life; one holds a lotus (Padma) which is an example of glorious existence and the fourth hands holds a mace (gada) indicating the power and the punishing capacity of the Lord if discipline in life is ignored.

His vehicle is the swift-flying bird Garuda which can spread the Vedic knowledge with great courage. The dark color of the Lord represents the passive and formless ether, a great quality for a pervading god. He rests on the bed of the powerful, coiled serpent, Seshanag who represents the sleeping universe. Lord Vishnu is also known as Hari, the remover.

Lord Vishnu's consort is Goddess Lakshmi, the Goddess of Wealth .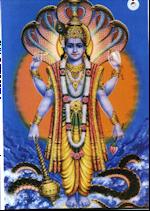 More About Lord Vishnu