God in Hindu Dharma and Representation in Temples

Concept of God in Hindu Dharma
Summary Concept and Deities
Hindu Trinity
Forms of God
Forms of Goddess
Avatars of Lord Vishnu
Devatas
Planet Deities
Animal Deities
Planet Deities

Explore this
topic in detail


Comment on
this page
The griha SANISCHARA (Saturn), also known as Manda, is generally known to affect one adversely on occasions when he occupies certain positions in one's horoscope like Saade Sati (7 1/2 years) Ashtama Sani (Saturn in 8 Th house - 2 1/2 years) etc. A prayer to this Devata, especially on Saturdays, is said to mitigate the hardships one will have to face during these periods. Sanischara is considered equally a bestower of all benefits to the devotees who pray sincerely to him.

He is the Lord of Makaram and Kumbam He is the slowest moving planet taking 2 1/2 years in each Rasi, completing one cycle every 30 years.

Exclusive Temples exist for Sanischara at Thirunallar in Tamii Nadu, and also at Naydongri in Maharashtra.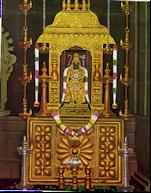 Planet Deity : Sanischara